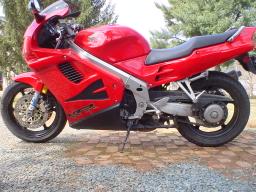 I originally wrote this review after having the VFR for a few months. I've recently updated the review with a little more information.
Briefly, the VFR is an amazing bike. Handling is stable, but quick. It is very powerful. At least one racing school uses the VFR for two-up training rides. Brakes are great. Suspension is not track ready, but very capable. Stock seat is fine, but if you ride much, you'll want an aftermarket seat. Ergonomics are good for a 5 foot 8 inch guy. The foot pegs are high enough for good clearance, but I wasn't totally folded up. Handlebars need to be higher for touring riding, and I added Heli Bars to help the hand position. Six speed tranny is nice, with very rare false neutrals. Once in a while I'd miss second gear, but that was probably my fault. Torque is very good for a sporty bike. The VFR pulls well from as low as 2000 rpm, although you can feel a huge boost when you hit 5000. I had a tiny bit of high frequency vibration starting around 65 mph. That vibration may have been due to the four carbs being a little out of sync.
The VFR was only my second bike, so I didn't have a lot to compare it to. My first bike was a Honda Shadow VLX. The VLX is a nice machine, reliable, and solid. One day I rode my friend's Triumph Tiger. The Tiger was smooth, powerful, better handling and more comfortable. Riding the Tiger got me thinking about selling the VLX and getting something sportier.
I started reading about bikes, and decided that I wanted something with less vibration and more wind protection than the VLX. Better handling was important, and good city manners (stop and go traffic) were essential. Sad to say, I had also developed an affinity for aerodynamic red plastic.
About 95% of my riding is the short commute through town to work. I ride all year 'round, and only ice and snow keep me off the bike. If I was truly practical I'd ride one of the big scooters like the Honda Silverwing, but I just can't bring myself to go there. Besides, the Silverwing and Bergman are expensive, and I wanted a used bike under .
The VFR (also known as the Interceptor) has more engine "whine" than the Shadow. The Shadow is a V twin, created to imitate Harley Davidson. The Shadow has a chain driven overhead cam (instead of HD's pushrod valves), so the Shadow has some of that timing chain whistle. The VFR has more. I'm not sure, but I think the '95 to '97 VFRs are gear driven cams, and that would account for most of the noise. The VFR sounds fine, but it sounds a lot more like a turbine than the Shadow. The Triumph Tiger is even more that way.
The VFR stock exhaust note is great. Perhaps too quiet for most people, but I don't need more noise on my bike. The V4 exhaust note is very authoritative.
Pluses:
- Smooth running, little vibration
- Good wind protection, even on the legs.
- Excellent handling and brakes
- Fuel gauge, no fuel valve, no reserve. There is also a low fuel warning light.
- Clock
- Large fuel tank (over 5 gallons). Takes regular gas!
- Mirrors don't vibrate at highway speeds.
- Has a center stand (makes lubricating the chain a breeze)
- Separate left and right turn indicators.
- Brighter headlights than the Shadow VLX.
- My feet seem to stay drier than on the VLX (due to the fairing, and better front fender)
- Comfortable, but still not perfect (too much weight on my hands, and my right thigh/butt cheek started to hurt after 2 hours on the road).
- Power. Wow. At around 95 HP the Interceptor seems over powered, if you can believe that. I know that loads of hot, modern bikes are faster, but I doubt most riders can tell. Besides the smooth torque of the V4 engine give you power you can use in everyday riding.
- Great balance at low speeds
- Better choke location than the Shadow (The Interceptor's choke is in the standard location on the left handlebar.)
- Good aerodynamics, there is no "helmet rumble" from rough airflow
- Single arm rear suspension and center stand mean the rear wheel/tire is reasonably easy to replace. This is a touring feature.
- Did I mention the incredible power curve?
Minuses:
- More expensive than some other bikes. I spent more on the Inteceptor than I did on my Shadow VLX, and the Interceptor was one year older and had 11,000 more miles.
- The six speed transmission means lots of shifting around town. I'd be in 4th gear at 35 mph.
- Gear spacing means that you have to lead the throttle for a smooth shift. This takes a little concentration. It probably took me 4 months to get this down so I wasn't thinking about it.
- Stiff clutch. My hand got tired holding the clutch in at red lights, so I can't sit in gear at stop lights.
- Torque curve is not ideal for stop and go traffic, but probably better than any pure sport bike.
- Seat is just a little higher than the Shadow, which makes the bike harder to back up when parking.
- Too much weight on my hands around town.
- Downshift occasionally doesn't work well at low speeds (perhaps due to the 34,000 miles on the bike). I'd come up to a stop still in second or third gear. Slipping the clutch very lightly and dropping down a gear or two worked.
- Can't see directly behind in the mirrors, and turning the mirror in to see better directly behind just mean I get to look at my shoulder.
- Mirror boot only stays on if the mirror arm is at a certain angle.
- Footpeg position seems too high for comfort, but it was fine for 2 to 4 hour rides. It's easy to change between toe-on-footpeg and instep-on-footpeg.
- I don't even want to think about dropping this bike with all that plastic. There's no decent place to mount frame sliders.
- Just about every maintenance task requires removing one of the fairings.
- Weird lazy-eye headlight. The older VFR has two headlights. The left light is lowbeam, and the right is highbeam. Every now and then someone unfamiliar with this "fashion" would say "Hey, man, one of your lights is out."