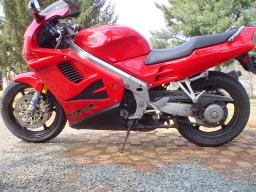 In February 2003 I bought a 1995 Honda VFR750 with 33,000 miles. Since then I've added HeliBars, Five Stars racks for Givi bags, and E21 Givi hard saddle bags. This bike is a blast to ride. That said, the Interceptor has a good and bad side. It has loads of power (almost too much) handles very nice, has great small perks like a fuel gauge, and isn't complicated to ride or twitchy. However, the riding position is somewhat sport like. On the expressway my hands get a little numb, and my butt falls asleep. The numb hands could be due to a high frequency vibration from the four carbs being a little out of sync. The seat is simply not suited to riding more than an hour.
In the Spring of 2004 I sold my 1995 Honda VFR after owning it for a little over a year. You may ask, "Why would Tom put his wonderful Honda Interceptor up for sale?" I loved that bike, but I wanted to try something different, and I can't justify owning two bikes. I thought about it for months. The VFR is a great ride, and I rode it to work every day. It's smooth, 100% predictable, powerful, and looks great. When I was on the VFR it's like a mind-meld: I just thought about where I wanted to be and the bike went there. The VFR is a sweet bike. I added Heli Bars and Givi hard cases, and a Zero Gravity ST windscreen.
After a brief stint on a Kawasaki KLR650 (talk about a different ride) I've settled on a 1995 BMW R850R. The R850R is a great bike.
Please look around my site at the photos and information about the 1995 Honda VFR (also known as the VFR750, VFR 750 F, Inteceptor, series 2 VFR, and series II VFR).
To see what the VFR looks like with cases, check out my photos:
1995 VFR750F with Givi side cases
See more riding details in
"Why to buy"
.