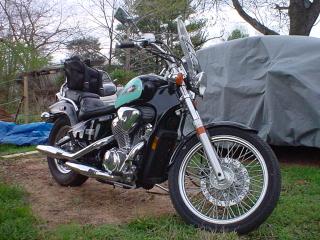 This site has around 95 repair and maintenance photos of the 1996 Honda VLX Deluxe motorcycle I used to own. (each image has a large view).
The Shadow VLX 600 is a great bike. I am now on my fourth motorcycle, and my top recommendation to beginners is the VLX. After the VLX, I had a Honda Interceptor VFR750F, Kawasaki KLR650, and now I ride a BMW R850R. All great bikes, but also quite different bikes. Of the bikes I've owned, the only one I'd recommend to beginners is the VLX.
The VLX has great power, not too much vibration (it buzzes at highway speeds), and the usual excellent Honda built quality (20,000-ish miles and not a drop of oil leaking). I was the 4th owner, and my friend Colin the 5th owner. The
VLX Review
covers the pros and cons of the Shadow VLX.
Read all about mounting Givi tubular racks on an older Honda VLX Shadow 600.
Mounting hard saddle bags
The photo above is an early photo before the Givi hard bags were mounted.