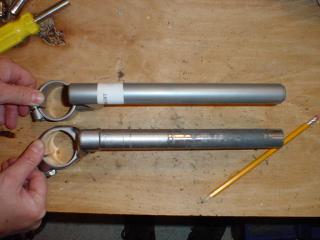 Heli Bars are great. For me they are more comfortable and worth the price. Read on for evaluation details, and installation photos. (Click any image for a larger view.)
Heli Bars are clip on handle bars that are taller (higher) and have more rear set than stock. You sit higher, and therefore have less weight on your hands. These things are expensive. They were so the improvement needs to be real in order to justify the cost. I had my VFR for a couple of months, and although it isn't too bad, the heels of my hands were sore riding around town. On the open road I think there are more frequent weight shifts (at least the kind of "open" roads I ride for pleasure) and it wasn't a problem.
I've been bicycling for years (since I was 5 years old). Racing bicycles and some mountain bikes are instruments of torture compared to a sport-touring motorcycle. Still, I wanted to be comfortable. Photos on the web were promising, but it was hard to tell just how much difference there is between HeliBars and the stock VFR handle bars.
In this top-down photo, you can see that the Heli Bars are rotated maybe 1/4 or 3/8 inch to the rear. The stock '95 VFR handlebar is at the bottom.