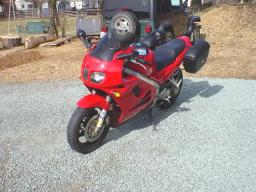 A 1995 VFR with Givi E21 Monokey cases.
Click any image for a larger view.
The cases make the bike a little fatter, but the cases are only a little wider than the mirrors. The E21 cases are fairly small (21 liters each). These are sport or cruiser cases. The full touring cases are almost twice as large.
Incidently, any Givi Monokey cases will fit these racks (as far as I know).