Oil Pump and Filter
Previous image | Back | Next image
I mounted the oil filter on the right (driver) side inner fender wall. It's was ok. The hoses held, but I was always worried they'd pop off.

I may have to take off the filter to get out the #3 spark plug. I bought some standard 1/2 inch id oil line hose. It's ok. The cooling tin had to be cut, and grommets put on the oil hose to protect it. At the bottom, the oil hose is about 1 3/8 inches (3.5 cm) from the exhaust pipe. It's going to get hot, but I don't know yet if it will melt. So far, I've driven the car a few miles and it's been ok. I might have to put in a heat shield. Maybe this wouldn't be a problem with an upswept baja type of exhaust (remember, I plan to turn this car into a baja).

I use the oil filter adapter with the vertical attachments. Every 90 degree bend increases back pressure. I put a Motorcraft HP1A filter on so I get an additional 1 quart capacity without adding a weird sump to the bottom of my engine.

In the photo below you can see the filter location inside the rear driver side wheel well. I had removed the engine comparment insulation. It was pretty far gone, and a mouse had put a store of seeds back there.

This is a really tight fit with the cooling tin and pulley. It would have been better yet to get some slightly longer allen screws, since the supplied screws were kind of short. Remember, don't over torque these screws/studs. It's something like 5 foot pounds. I used a little medium strength Locktite on the nuts.

I had to file the bolt holes in the pump and cover. They were binding, and the pump is already a very snug fit. Don't forget to re-torque the case nuts.

I don't know how to get this pump out of the case. The oil pump puller uses the inlet and outlet holds in the pump. This new pump doesn't have an outlet hole in the usual place. It might be necessary to do the kind of gross thing I did and drive the pump out with a hammer and screwdriver.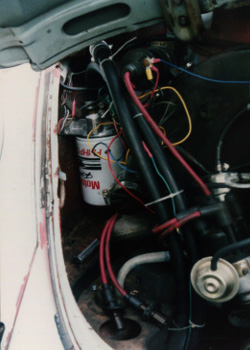 ---