Front Suspension
Previous image | Back | (no next image)
A little wiggling was all it took to get my torsion arms to go on the torsion bars. In this photo, you can see the lower torsion arm, and the black, graphite impregnated bushing from Suspension Restoration leaning on the toolbox. The bushing takes place of the outer bearing and inner brass/composition bushings. I found that in a couple of cases, I had to put the bushing in first, and slide the arm into it - as opposed to putting the bushing on the arm, and sliding them together into the torsion tube. Did I mention that I went through 2 rolls of paper towels wiping grease off all this stuff?? To the left you can see the brake/spindle assembly resting on the wheel.

Bolt everything together. Get the car aligned. I put anti-sieze on all the ball joint bolts. The upper ball joint has that big weird conical nut for alignment purposes. I haven't had the car aligned since I've been putting on spring plates too.

Suspension Restoration carries urethane bushings which they say don't squeak. I have a set installed in the front, and they are fine. No squeaking in the front. The rear Sway-A-Way bushings started squeaking (more like a grunt) after a couple of weeks. All the bushings were sprayed with grease+teflon, or things might be worse.

I've bought a little $99 Campbell-Hausfeld buzz box welder. It did a fine job, I guess. I spent more time chipping slag than welding. After that, I bought the least expensive Lincoln gas-shielded MIG welder. It is amazing and I'm still using it many years later. My recommendation: skip the stick welder and buy a gas-shielded MIG. The gas is an additional expense, but well worth it.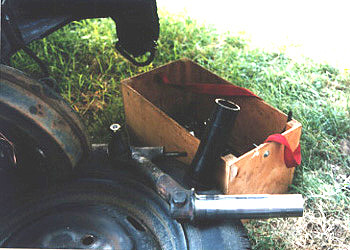 ---