Front Suspension
Previous image | Back | Next image
Getting the ball joints out of the wheel spindle was pretty easy with a pickle fork.This photo is a bit dark, but you can see that the pickle fork is positioned to push the ball joint down and out. You hammer on the end of the pickle fork, and it is made to be pounded on pretty hard. Took me about 5 good whacks with a one pound ball peen hammer.

Remove the ball joint nut. It's still on in this photo. Same operation for upper ball joints.

I removed that weird conical adjusting nut from the upper ball joint with the pickle fork. I just rested the torsion arm on the work bench and pounded away. It only took a few whacks.

Don't remove the steering box. Just disconnect the inner tie rod ends and steering coupler.

The shop I took my torsion arms to for pressing out/in the ball joints said they had to use a torch on a couple of them. Cost: $50! (Initial estimate was $20 or $30 for labor). I'll take the car to the same shop for a 4 wheel alignment now that the spring plates are on too. I bought ball joints mail order, supposedly German made. I wish I'd known to shop around for long-travel ball joints. Apparently these are available to fit stock torsion arms. This is a different item from Thing ball joints, which I pretty sure require changing to other parts as well.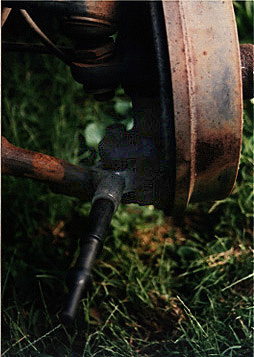 ---