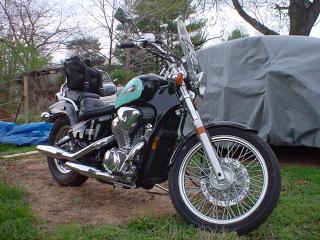 A guy wrote:
"I am looking at Shadows. This will be my first street bike. How will a 600 be with two riders? It will be me and my wife. Anything you can tell me will help. Some say I should get at least a 750. However when I sit on them I like the feel of the 600 better. But I am unsure of the power."
---
Great question, but sadly he didn't include a return email address.
This note has good timing. Keep in mind that on motorcycles I'm a beginner with only 2 years experience (although I ride just about every day). December 2002 through February 2003 I put about 3000 miles on my VLX commuting to work. After riding only the VLX for a year, I finally rode my buddy's year 2000 Triumph Tiger (855cc) for a few twisty miles. Wow! More on that later...
The VLX 600 has plenty of power. You won't wheelie or do burn outs, but I doubt you'll ever lack for power around town. I only ride single (one up), and I'm a small guy (5 foot 8 inches, 150 lbs). I ride around town almost daily since the VLX is my commute. The VLX has great acceleration - at least as good as a V8 car. At highway speeds (65 mph) it is a bit slower accelerating. Wind resistance is a huge factor. The VLX still does well at 65 and over, but not as well as from below 45 mph. It will cruise easily at 70 mph, but it feels like a taller high gear would help.
The VLX is a great bike, and there are plenty of good used machines out there at good prices. You could drive it for a year or two, and trade it for almost what you paid for it. Or you might just love it and keep it for a long time. The VLX has a huge following.
If you want to do serious miles, I'm guessing that you'd like it, but would trade up after a year. Bigger bikes are smoother, and often handle a little better.
The Triumph Tiger is amazing. First, it has a TON more power. With the VLX, you can usually twist the throttle as far as you want and you won't scare yourself. No so the Tiger. Very smooth and it doesn't redline until something over 8000 rpm. Cruisers like the VLX probably redline below 6000. Second, the Tiger has better cornering manners. Cornering is more like a telepathic connection. Third, the Tiger engine is very smooth - more revs don't result in the kind of increased vibration that the VLX has. Last was the riding position. The Tiger has a kind of touring seating position where the feet take some of the pressure off the butt. Riding a modern dual/sport was a real eye opener.
Will you like a VLX? Sure thing. You'd like probably like a larger Shadow or maybe even a Harley Sporster. For me budget is a factor, so a 1996 VLX in really good condition for $3200 was a great deal.
My butt falls asleep on the VLX after an hour. However, plenty of people tour on VLXs. They take a break every hour. No problem because the tank only holds 2.9 gallons of fuel, and 0.9 gallons of that is the reserve. You'll be fueling every 90 miles or so.
Did you know that the VLX is a Harley imitation, right down to the semi-single pin crank? The Honda doesn't quite have the HD "potato-patato" engine note, but it is close. The result is vibration. Around town it's cool. It feels like you really are on a great machine. At highway speeds it is just an annoying buzz. The stock exhaust note is firm, a tad loud, but not anti-social.
The transmission is only 4 speed. False neutrals aren't much of a problem. Once is a while I'll miss 2nd gear and end up in neutral if I don't give it a firm enough kick. Down shifting is a tad clunky. The tranny doesn't want to shift when the bike is stopped, or at very slow speeds. I down shift before I get to 5 mph. If you are stopped, a light slip of the clutch will help it drop into a lower gear. I've mindlessly stopped in 3rd gear, and had to do the clutch/downshift thing a few times to get into 1st. I found that the shift lever doesn't leave much room for boots. I have it set at the max height. People with bigger feet will probably want a shift lever extension.
The VLX is very reliable. The engine is a 52 degree (the angle of the V bwtween the two cylinders) V2 with 583cc. It has a chain driven overhead cam, 3 valves per cylinder. There are little valve adjustment access covers in the vavle covers. Spark control is electronic with dual coils and two spark plugs per cylinder. Water cooled means that it won't overheat, and runs at a nice constant temp no matter what the outside temp is. Not a drop of oil leaks, even after 20,000 miles. The cooling system seems solid too, however, the water pump is the lowest part of the engine. I had an email note from a gal who hit a big rock and took out her water pump. Ouch.
The VLX Deluxe has fancier paint, and a lot of chrome. My VLX was the right bike at the right price and just incidently is a Deluxe. I didn't think much of it, but I get compliments all the time. The chrome really makes a difference. This bike looks great.
The VLX is somewhat limited when it comes to accessories. Due to pricing, features, and low seat height, the VLX is often considered a beginner bike. It is a serious machine, but many long term riders end up on the larger Shadows (and other cruisers, of course). There are a better selection of accessories for the larger Shadows.
The pillion seat is kind of small. I don't know that I'd want to spend a lot of time up there.
I hope all this helps.
I love to hear about other people's bike (and car) experiences, so drop me a note, especially if you getting back on a bike, or are a beginner.
--
In February of 2003 I bought a 1995 Honda VFR750F Interceptor. The Interceptor is very, very different from the Shadow. When I got the Shadow, I was almost instantly comfortable on it. The Interceptor freaked me out every time I rode it for the first two months. It has amazing power. The Interceptor also has very good handling, and reasonable ergonomics. After I got over the shock of the Interceptor, I really settled into it. Starting from about 4 or 5 months on, I really like it. Every ride is great. I still miss the Shadow, but the two bikes are worlds apart. See my VFR750 review.