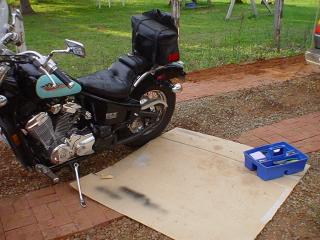 When installing hard bags on the VLX, the rear turn signals have to be moved back. If you get the Five Stars rack, the kit comes with mounting brackets.
Since I was customizing Givi tubular racks, I bought Scott's bracket which moves the turn signals to the license plate mount. Very nice. Cost is $25 including shipping.
You can email Scott: sljaholloway@comcast.net There is some info about the bracket at ShadowParts.
http://shadowparts.com/
I have moved the helmet lock from it's position on the left side. It will attach to the top of the Givi tubular rack so that I can use the hard cases and the helmet lock.
Topics covered by these photos:
* Removing the seat
* Making the seat easier to remove/install
* Removing the rear fender
* What the rear fender looks like off the bike
* Removing the old style Honda (Hondaline) sissy bar
* Removing the rear turn signals
* Rear wiring
* Removing the helmet lock
* Mounting the rear turn signals further back to clear hard bags or saddle bags

Click any image for a larger view.
Cardboard to sit on is way better than grass and gravel. Tools in a bin, and I throw parts in the same bin or into some other container.