Heat Riser
Previous image | Back | (no next image)
When a Bug has a merged exhaust, this is almost always also an extractor exhaust. The flow of gas out the merged part actually creates a negative pressure on the cylinder that is not on exhaust stroke.

The result is that if you are using a modern, merged exhaust instead of the factory exhaust, your heat riser is almost totally useless. Note the negative part of the graph on the left. Hot exhaust gasses have little positive flow. Instead, they just move back and forth.

I have confirmed this. My exhaust pipe can be very hot, and the heat riser will be tepid or actually cold.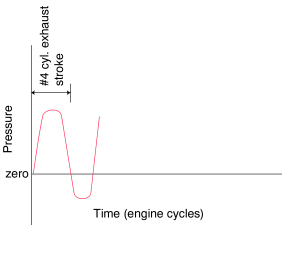 ---