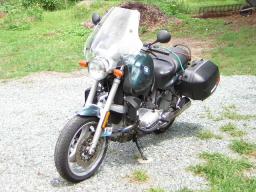 Welcome to my site about the BMW R850R. This is a 1996 R-series oilhead bike. Click any image for a larger view.
The R850 is nearly identical to the R1100, but has slightly smaller cylinders and pistons. I think the final "R" in R850R stands for "Roadster". This is a street bike set up for short and long distance road travel. Unlike the RT and LT bikes, it does not have a fairing so it is kind of a naked bike. As far as I can tell, the R850 was only imported into the US for two years: 1995 and 1996. I think it is still sold in Europe.
My bike has quite a few options. The center stand is standard, but the hard cases (luggage), low mount muffler, clock, tach, windscreen, saddle and cylinder head guards are all options. That's a Russell saddle, and it is comfortable.