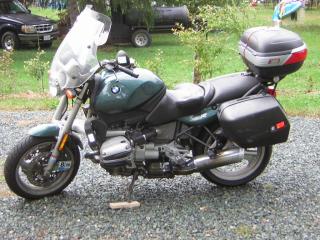 After two years on the R850R it is time for an in-depth review. Even though this bike is more than 15 years old, it shares many qualities with newer "oilhead" R BMW motorcycles, and I'll allude to both the similarities and differences.
In this photo notice that I've added a 50 liter Givi top case. I love it. Notice that the windscreen is fairly steep, and that there is no fairing. More on this later.
Overall this is a wonderful bike. It has a long list of features I want in my daily ride, and only a small list of niggles. Since modern bikes are largely very reliable, I'll separate out the mechanical issues from the day-to-day qualties. The features are: quiet exhaust, comfy seat, good ergonomics, windscreen, locking hard luggage, clock, low fuel warning light, tachometer, center stand, cylinder head guards, great handling (cornering and braking), reasonable power, moderate clutch effort, 12 volt power outlet, luggage/fuel/helmet locks all keyed to the ignition key, running lights (i.e. yellow marker lights), hazard flashers, a decent tool kit, and shaft drive. The mirrors are set just wide enough. I recently added a Kisan Signal Minder which I love.
The cylinder heads sticking out is not a problem. The handlebars and mirrors are wider (so are those wide touring cases). No, the heads don't drag on the ground when leaned over cornering. That is only an issue when knee-down at the race track, and not much of an issue there.