Air Cool VW (Beetle)
Previous image | Back | Next image
Volkswagen Beetle and Karmann Ghia Service Manual, Type 1 : 1966, 1967, 1968, 1969 (Volkswagen Service Manuals from Robert Bentley, Inc) by Volkswagen of America Inc.

ISBN 0837604168
1972 edition.

This is the definitive factory shop manual.

Chapters: Getting Started, Engine, Fuel System, Front Axle, Transmission and Rear Axle, Automatic Stick Shift, Brakes, Lubrication and Maintenance, Body and Frame, Electrical System.

The engine, fuel, axles, brakes and transmission chapters are great. The body and frame doesn't cover the more difficult repairs like head liners. Some repairs assume that you are using all the special VW tools. Before getting this book you'll want "How to Keep Your Volkswagen Alive" which shows all the good shortcuts, and gives advice. The shop manuals assume that you are a mechanic, and often leave out advice based on that assumption.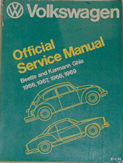 ---